More news has surfaced around Xiaomi's upcoming mid-ranger, the Xiaomi Redmi Note 5, which will follow in the line of its predecessors' legacy as being one of the best budget mid-range segment phones available yet. Xiaomi will most likely be offering the biggest and best Redmi Note variant this year, based on the recent leaks that have been unearthed by the internet.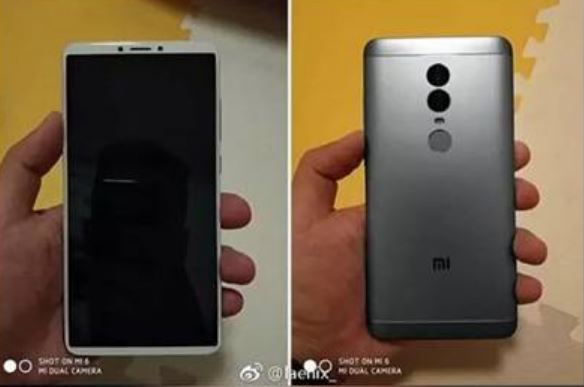 According to reports, the Redmi Note 5 will have an 18:9 aspect ratio display at 5.5-inches in size. According to the recent leaks of the phone, it looks like Xiaomi will have minimal bezels on all four sides. Up until now, we were only acquainted with renders of the phone, but seeing it in the flesh brings reassurance that Xiaomi is looking to bring in some strong and futuristic design elements into the phone.
The leaked images only show a prototype, but it is a strong indicator of what we can expect the phone to be like. The phone will also feature a dual-camera setup on the back of the phone. By the initial impressions of the phone, Xiaomi has all the right elements in place for the makings of a solid 2017 handset. The handset is also said to feature a beefy 4,000mAh battery unit as well.
Gizmo China believes that the phone may feature a slightly larger 6-inch display, which will make it the largest display seen on the Redmi line till now, but that feature can be confirmed only once the device releases officially. It looks like the back of the phone is made of aluminium with the antenna lines running at the top and bottom of the phone and looks eerily similar to the Redmi Pro.
Regarding the phone's optics, theRedmi Note 5 is expected to come with 16MP + 5MP cameras on the back of the phone, meaning that one will be a telephoto lens for depth of field effects and the other will be a primary lens. Being on the mid-range segment, the phone will feature the popular Qualcomm Snapdragon 630 chipset, but considering Qualcomm's newest Snapdragon 660 chipset was recently announced, it is more likely that we will see the newest silicon on the phone.
The phone is also expected to come in a 3GB variant and a 4GB variant, with internal storage capacity as high as 64GB. Being known for their cheap offerings, the phone's speculated pricing has been pegged around the $200 mark for the base model, going all the way up to $250-$300 for the high end 4GB model. For the kind of technology being implemented in the phone, the price is hard to beat, but we'll only know the real pricing once the official word is out.