There is now a new variant of one of the world's most loved smart-watches, the Gear S3. The new variant comes in a result of Samsung's partnership with TUMI that offers some aesthetic changes to the device and puts it in a new light.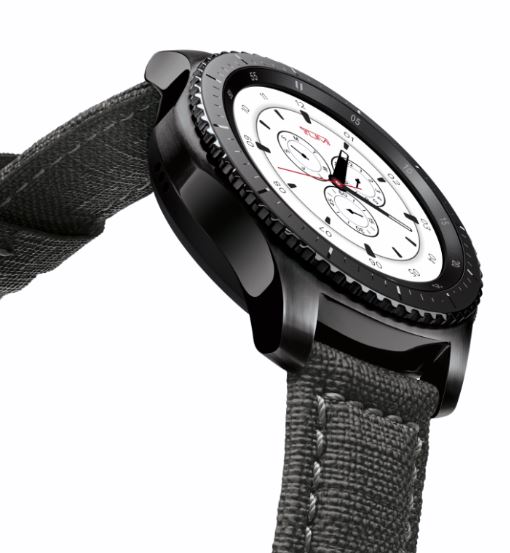 The new variant offers a new unique band and not much else, really. The new variant will be called the Gear S3 Frontier. All the features are no different than the standard model of the Gear S3. Even the colour scheme and accents are retained, save for a new watch-face that has been customized by TUMI that comes pre-loaded with the smart watch. The band especially offers the most notable change of all.
Strap is not the usual band that the Gear S3 is known to come with, but instead comes with a textured band that is made of TUMI's signature trademark grey Italian canvas, as an homage to the company's expertise in making high-quality bags. Everything remains the same under the hood as well, with the smart watch retaining its Tizen-based OS that can be experienced through a 1.3-inch 360×360 Super AMOLED display, a Gorilla Glass SR+ Crystal for protection as well as 380mAh battery.
There is also the same 768MB of RAM and 4GB of internal storage and can also connect to the user's smartphone over Bluetooth 4.2. Samsung seems to be taking a page out of other manufacturers who are clubbing with popular brands to glamourize their smart watches. The Gear S3 is due for a makeover this year and is expected to release any time in the coming months. While there has not been any official word on a new S4 releasing, the justification of a brand-new variant of the Gear S3 this late in the product's life-cycle does not seem valid enough.
Apart from the watch-face and the strap, the next most significant change that buyers will experience from the watch is the price tag, which will set customers back by an extra $150, compared to the original, which is $300. The device will be made available from July 28 online and will make its way to retail stores on August 6. It seems unlikely that Samsung's newest iteration of the Gear S3 will fare well, it is more-or-less the same experience that users will be deriving from the model, but more expensive.