The Xiaomi Mi 5X has been leaked in the form of an image of a poster. The new phone has not earlier been cited and based on the details indicated in the poster, the phone is expected to be a mid-ranger phone with decent specs.
According to recent reports, the device will be powered by a Snapdragon 625 SoC and will come with a 5.5-inch display. The display will come with a resolution of 1080p and the RAM on the phone should be a suitable 4GB. The Snapdragon 625 chipset now has a reputation of being one of the most powerful mid-range SoCs in the market and so, the 5X will probably be expected to run smoothly without any hiccups or slowdowns.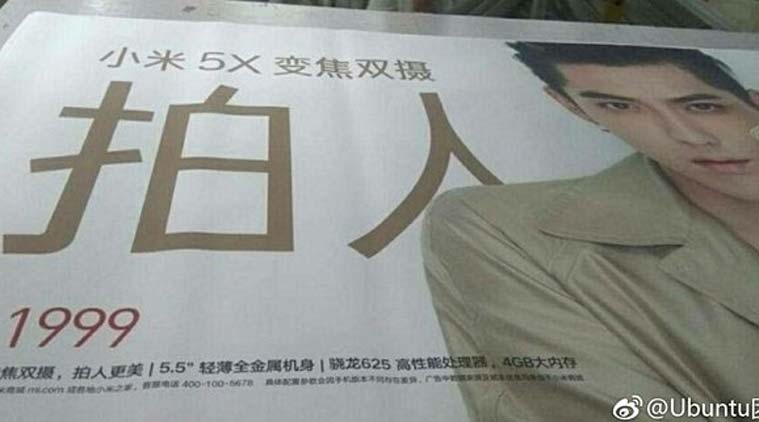 The phone from Xiaomi could well be the first phone to be released under Xiaomi's new sub-brand that will be joining the Redmi and the Mi series, with the primary difference being that this brand will have availability offline as well. The smartphone will feature a dual-camera set upon the rear side and will a suitable prospect for those looking for a cheap and reliable mid-ranger, with an asking price of $295, which is 1999 Yuan as was mentioned in the leaked ad.
The rear cameras will sport 12MP sensors each and as the branding for the '5X' suggests, the optics will be capable of 5x optical zoom. The new sub-brand from Xiaomi is looking to compete offline with Oppo and Vivo who already have a strong presence. Xiaomi has been known to be only an online-centric brand, owing to its flash sales and marketplace exclusive products.
Xiaomi's newest offering is meant to challenge its competitors in Mainland China, which could suggest that the phone might be exclusive only in China for the time being. The report also mentions that there could be variant with higher specs, which would include a more powerful Snapdragon 660 and 6GB of RAM. On the back of the device, the higher-end model will have a 16MP camera while the front will have 5MP camera. Both variants of the phone are said to come with Android Nougat 7.1.1 with MIUI 9.0 out of the box. The phone is also said to feature Quick Charge 3.0 technology
As will be speculated, the Xiaomi brand has done very well for itself in the digital realm, thanks to its cheap offerings and feature-rich phones. It will be interesting to see how the phone-maker fares, now that its natural landscape has changed and will be facing the elements for once.